6th Grade Blog December 3-6, 2017
JUDAICA
On Sunday, we had a very reflective day and wrote letters to ourselves. We spent almost the whole time writing in response to several possible prompts. I told the students that I would send them these letters a year from now. Prompts included:
When do you feel most Jewish?

Is your religion important to you?

What is revelation and what meaning does it have in my life?
The students came up with a few more and then we all got to writing, including myself and our madrich, Jacob. We finished by making Hanukkah cards for CKH college students to help them feel like they have a lot of home!
Becca
Thu, September 20 2018
11 Tishrei 5779
Grade 6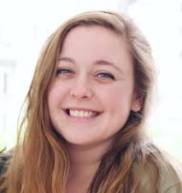 Becca Feuerberg - Judaica
Becca@kolhaverim.org
Jeff Zagoren - Hebrew
MrZ@kolhaverim.org
Tori Tucker Mollie Nardone
Hebrew madricha Hebrew madrich
Aaron Cohen Aleia Garfinkel
Hebrew madrich Hebrew madricha
Jacob Schwartz John Nardone
Hebrew madrich Hebrew madrich
Thu, September 20 2018 11 Tishrei 5779