6th Grade Blog November 5-8, 2017
JUDAICA
On Sunday, we finished up our unit on Torah. We did a brief review of everything we have learned so far in the Torah unit. This included: k'tuvim/writings, the Book of Ruth, wisdom literature, mishlei/ proverbs, and t'hillim/psalms. After a quick discussion and recap on the topics, I told the students that we would be making commercials as our unit wrap-up activity. Everyone thought this was so much fun. The students worked in groups and chose a topic that they would like to "advertise" in a commercial. Many students really connected with psalms, but others chose a different topic. It was fun to give the students more choice in what they were working on. On Wednesday, we began our unit on Avodah, which means the work that we do to find sacred connections to God, community, and self. This lesson was all about Revelation at Mount Sinai. I had the students close their eyes and we turned the lights off to enable complete focus. I read to the students the moment of encounter between God and the Jewish people. Once I was done reading, I asked what this moment was trying to describe. It was the Revelation in which the Jewish people accepted the Ten Commandments and we accepted responsibility for our actions. Revelation is a word that Jews have struggled with for a long time. We created our own working definitions of what Revelation means in an interesting way. The class was split into groups and was asked to read a portion of the worksheet and then stop and write what they learned about Revelation. The paper rotated and each group would refine the definition into one that the whole class could agree on. Although it is not perfect, we all left with a much better understanding of what Revelation is.
Becca
HEBREW
We had a strong Hebrew class on Sunday, thanks to the number of madrichim. We worked in groups of two, or individually, and worked on refining Shema and Ve'ahavta, Modeh/Modah Ani, Avot Imahot, and Gevurot. We should complete these by the end of this month. We are also beginning Ma Tovu and Nissim b'chol Yom as the next prayers. This will keep us quite productive.
On Wednesday, we took a good look together on the preparations for what parts we will lead at the sixth grade service. As a reminder, the 1st Friday Community Shabbat Service and Dinner for our class is on December 1, 2017, beginning at 6:00 pm with services. We will continue our preparations in the next couple of classes. Sunday's class will feature more individual and paired-up study as we have been doing on Sundays. This will make the students much stronger as a result.
See you on Sunday.
Mr. Z.
Thu, September 20 2018
11 Tishrei 5779
Grade 6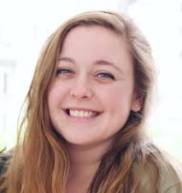 Becca Feuerberg - Judaica
Becca@kolhaverim.org
Jeff Zagoren - Hebrew
MrZ@kolhaverim.org
Tori Tucker Mollie Nardone
Hebrew madricha Hebrew madrich
Aaron Cohen Aleia Garfinkel
Hebrew madrich Hebrew madricha
Jacob Schwartz John Nardone
Hebrew madrich Hebrew madrich
Thu, September 20 2018 11 Tishrei 5779