6th Grade Blog September 24-27, 2017
HEBREW
In Wednesday's class, we focused on the importance and meaning of Rosh Hashanah and Yom Kippur. We covered a few short stories and general information from Mr. Z.'s library of materials. Everyone in class enjoyed learning a little more in-depth. We will wrap up our holiday studies when we return from our break, and will move forward on our Hebrew prayer study.
Best,
Mr. Z.
Sunday in class, we had a substitute, as Mr. Z. was out-of-town for his niece's wedding. It was a good class. Gianna Michaelson did a great job, with the madrichim, at working with the students on their basic prayers. The main focus was perfecting the Shema and Ve'ah'hav'tah. Work was begun on Ma Tovu including the first six to eight lines.
Mr. Z.
JUDAICA
The beginning of Wednesday's class was dedicated to finishing up writing our skits and performing them. It seems like everyone had fun adapting The Book of Ruth and making it their own and it seems to be a way for the students to better understand/ remember the main ideas from the story. We even had one group modernize the story, which was absolutely awesome and made everything more relatable. We focused the rest of the class on holidays that were either coming up or had just passed. The students led a brief discussion on Rosh Hashanah and what the holiday meant to them and Yom Kippur and why people fast. Lastly, we discussed Sukkot and the students understood the holiday as one that really brought communities together, where people can invite others into their sukkahs and see the interconnectedness of humanity. We ended with a fun activity where we made corn decorations for the sukkah out of popcorn!
Please remind your children to bring tzedakah every week; every little bit counts!
Becca
Tue, September 18 2018
9 Tishrei 5779
Grade 6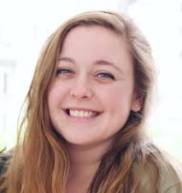 Becca Feuerberg - Judaica
Becca@kolhaverim.org
Jeff Zagoren - Hebrew
MrZ@kolhaverim.org
Tori Tucker Mollie Nardone
Hebrew madricha Hebrew madrich
Aaron Cohen Aleia Garfinkel
Hebrew madrich Hebrew madricha
Jacob Schwartz John Nardone
Hebrew madrich Hebrew madrich
Tue, September 18 2018 9 Tishrei 5779