3rd Grade Blog September 24-27, 2017
Hebrew
On Wednesday, we worked on reinforcement of the Hebrew letters we've covered so far. These included bet, vet, shin, tav, hay and the vowel sound ah. We covered our High Holiday book Mr. Z. got from the Library. This gave the overall meaning and concepts for Rosh Hashanah and Yom Kippur, including a sweet New Year, fasting, challah, praying, tashlich (throwing bread into the water and casting away our sins), and apples and honey. We will continue progressing in Hebrew the next few classes, as well as a little more holiday coverage.
In class on Sunday, we had a substitute, as Mr. Z. was out-of-town for his niece's wedding. Gianna Michaelson and the madrichim did a wonderful job of working with the children reviewing the Hebrew letters and vowel we have covered so far. We also began a library book based on Rosh Hashanah and Yom Kippur. We will continue our High Holiday story next class, along with some Hebrew work.
Mr. Z.
Judaica
The beginning of this class was dedicated to finishing up writing our skits and performing them. It seems like everyone had fun adapting The Book of Ruth and making it their own, and it seems to be a way to better understand/ remember the main ideas from the story. We even had one group modernize the story, which I thought was absolutely awesome and made everything more relatable. We focused the rest of the class on holidays that were either coming up or had just passed. The students led a brief discussion on Rosh Hashanah and what the holiday meant to them and Yom Kippur and why people fast. Lastly, we discussed Sukkot and the students understood the holiday as one that really brought communities together where people can invite others into their sukkahs and see the interconnectedness of humanity. We ended with a fun activity where we made corn decorations for the sukkah out of popcorn!
Please remind your children to bring tzedakah every week; every little bit counts!
Becca
Tue, September 18 2018
9 Tishrei 5779
3rd Grade
Jeff Zagoren - Hebrew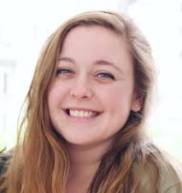 Becca Feuerberg - Judaica
Tori Tucker Mollie Nardone
Hebrew madricha Hebrew madrich
Kara Goldstein Aaron Cohen
Hebrew & Judaica Hebrew madrich
madricha
Aleia Garfinkel Jacob Schwartz Hebrew madricha Hebrew madrich
Ethan Lachnicht John Nardone
Hebrew madrich Hebrew madrich
Tue, September 18 2018 9 Tishrei 5779