3rd Grade Blog September 10-13, 2017
Hebrew
On Wednesday, we began our work on the Hebrew letters bet, tav and shin, and learned the vowel ah. Your child has been given a set of worksheets, pages 3-11, to study from, and that we will be using over the next three to four classes.
We had a productive morning on Sunday with our class. Most everyone was present, and we covered a lot of important ground - including staff introductions, safety and security procedures, the value of respect for staff, property and Temple, the fact that our school is nut free and all snacks must also be nut free, Hebrew books and supplies and how our year will work. We will complete a short ice-breaker activity next class, and will begin our Hebrew study and High Holiday work as well.
I am always accessible for any questions or concerns you might have. Please email me at MrZ@kolhaverim.org, or all me at 860.693.9521 /h or 860.539.7042 /c.
Mr. Z
Judaica
Wednesday's lesson started with me showing the students an unidentified wrapped box and asking "If this were a present for you, how would you feel? How would you feel about me?" After writing a few responses on the board, we transitioned into how this relates to Judaism. We discussed that the first portions of Vayikra/ Leviticus have to do with sacrifices brought to God in the Temple in Jerusalem in ancient times. The Temple is no longer standing in Jerusalem and we do not sacrifice animals or grains to God, so why do we still teach about this and is it relevant today? We said that one way we still give gifts to God is prayer. And we can understand sacrifice as "offerings" or korban. To reinforce and connect this idea better, I read a passage about a gift-giving exchange and had some students act it out. We ended by saying that perhaps when we offer ourselves to others and to God, we come closer to God, and perhaps, God comes closer to us.
On Sunday we introduced the Torah track of our CHAI Curriculum, and focused on introducing Vayikra/ Leviticus through teaching about the word k'doshim or holiness. We started off by handing each student 2 index cards with words written on them. On each side of the room, the title "ordinary" and "special" were posted on the wall. The students were asked to take a few minutes to really think about their words and then tape them under the category they felt was best! We had a discussion about holiness and were surprised (and delighted!) to find that some students had a different way of thinking on certain cards. Some students offered that maybe a pencil could be considered special or holy because it comes from trees, which give us life.
We learned that there is a difference between things that are holy and things that are not; however, sometimes holiness is really based on an individual's specific opinion or understanding. We then discussed what the students felt was holy to them in Judaism. We ended class with two students acting out a passage I read about Moses sharing a message from God, asking us to behave in a holy way. At first, they thought this was silly, but also understood what was happening and how it related to k'doshim.
I hope everyone had a good day today - and just a reminder to please bring a contribution for tzedakah next time! It is so important that we collect enough money to really make a difference this year.

Becca

Thu, September 20 2018
11 Tishrei 5779
3rd Grade
Jeff Zagoren - Hebrew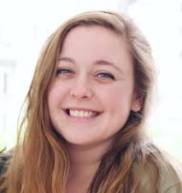 Becca Feuerberg - Judaica
Tori Tucker Mollie Nardone
Hebrew madricha Hebrew madrich
Kara Goldstein Aaron Cohen
Hebrew & Judaica Hebrew madrich
madricha
Aleia Garfinkel Jacob Schwartz Hebrew madricha Hebrew madrich
Ethan Lachnicht John Nardone
Hebrew madrich Hebrew madrich
Thu, September 20 2018 11 Tishrei 5779